Breast Health Navigator
Home
Breast Health Navigator
Breast Health Navigator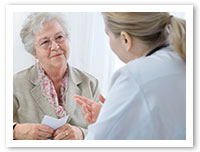 Helping patients navigate through their cancer journey from discovery to recovery
A breast health navigator is a health care professional trained in breast cancer care, who guides and supports patients and their families through the many challenges of breast cancer. The navigator is dedicated to bringing together all multidisciplinary team members involved in a patient's care.
Physician Information »
---
Meet Our Breast Health Navigator
Sharon Rhett,
MSN,RN,ACNP
TriStar Centennial Office:
615-342-5013
Fax:
615-342-7626
Mobile:
615-218-0220
The breast health navigator will provide assistance with:
Understanding diagnosis and available treatment options
Understanding what resources are available and how to access them
Overcoming barriers and coordinating care with the entire healthcare team, including:

Surgeons
Medical oncologists
Radiation oncologists
Plastic surgeons
Genetic counselors
Support groups
Dieticians
Physical/Lymphedema therapists
Radiologists

Understanding your medications
Connecting patients with outside resource centers such as the American Cancer Society, The Minnie Pearl Cancer Foundation, YMCA ABC program, Susan G. Komen, and Gilda's Club for group support and breast cancer related products
Providing educational materials
Improving communication between the healthcare team and hosting multidisciplinary breast cancer conferences to assure personalized breast cancer treatment for each patient
Offering patients the opportunity to participate in clinical trials
Breast Health Navigators are also currently available at the following TriStar facilities: TriStar Horizon, TriStar Skyline, TriStar Summit, TriStar Southern Hills, and TriStar StoneCrest.