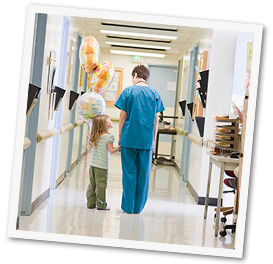 For a hospital patient, a smile and a few words of encouragement can make a real difference. Volunteers provide support, encouragement and a fresh perspective to patients and the hospital.
In return, volunteers become part of our family, and they join the team of physicians, nurses, staff members and others who make our patients feel at home.
We work closely with each new volunteer to find an assignment that matches his or her interests, skills, and motivation.
Volunteer Opportunities:
Patient Visitor
Clerical and Office Support
Departmental Support
NICU Baby Rocker
Mail and Flower Delivery
Pet Therapy (certification required)
Lobby Greeter/ Wayfinding
No One Dies Alone (NODA)
Chaplain
Volunteer Requirements:
Application Form/ References
Interview with Volunteer Coordinator or designee
Background Check
Health requirements including annual TB screening and flu shot, MMR and Varicella immunity and TDAP
Volunteer Orientation
Minimum of 3-4 volunteer hours per week for at least 6 months
**Be aware there is a waiting period due to processing time and volume of applications**
Volunteer Applications:
Please email application, disclosure and both authorization forms to cent.volunteers@hcahealthcare.com.
For additional information, please email the Volunteer Services Department.